People have
visited this site.
This site was created by Stephen P. Hall Webmaster of:
The Balch House Associates Beverly Historical Society & Museum 117 Cabot Street Beverly, MA 01915 (978) 922-1186
Left 2nd Floor Bedroom
This 2nd bedroom was built on the left side of the front of the house when the first addition was added in the late 1600s.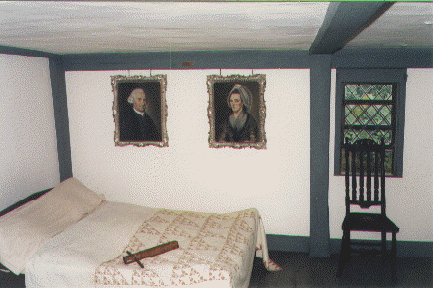 In this photo of the left bedroom you can see a "bed key" on the bed. This wooden "T" shaped tool, with a notch at one end and a handle at the other, was the 17th century answer to a "firmer" bed. Unlike electric devices now available to "firm up" your side of the bed, in the 17th & 18th centuries, you used a "bed key". There was no "box spring" under the mattress, just several ropes laced back and forth. You use the "bed key" tighten the ropes and firm up the bed. The people shown in two portraits above the bed, are Nathaniel and Mary (Fletcher) Balch.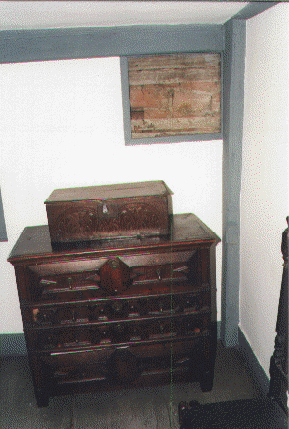 This is a photo of one of the corners of the left bedroom, showing a wardrobe and a bible box. Note at the top of the photo, there is a square section of wall plaster that has been removed, exposing the original 17th century wall.
This concludes your tour... Please visit us again!