People have
visited this site.
This site was created by Stephen P. Hall Webmaster of:
The Balch House Associates Beverly Historical Society & Museum 117 Cabot Street Beverly, MA 01915 (978) 922-1186
Right 2nd Floor Bedroom
When the house was first built this room would have been little more than a loft where the entire family would sleep. It sits directly above the "Great Hall"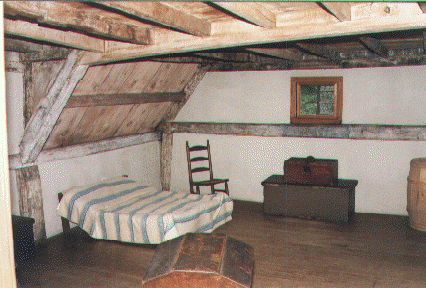 This photo taken from the doorway at top of the stairs, is looking into the second floor bedroom, that is located at the front of the house on the right side. Note, the blanket chest and bible box in the center of the photo. In the foreground you can see the top of a child's cradle.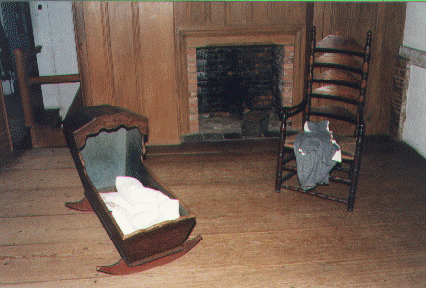 The only heat in the room, [still], is the small fireplace in this photo. The family would have placed the infant close to the fire to keep warm.
[Click here to return to the main Tour Page]
or
[Click here to go to the next room]