People have
visited this site.
This site was created by Stephen P. Hall Webmaster of:
The Balch House Associates Beverly Historical Society & Museum 117 Cabot Street Beverly, MA 01915 (978) 922-1186
The Other First Floor Room
When the first addition was added to the house in the mid 1600's this room was use most likely as a kitchen, and work room.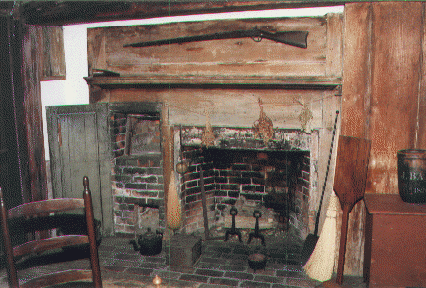 In this view of the other first floor room at the front of the house, you can see the fireplace, and the side oven on the left used for baking bread. Above the fireplace is an 18th century flintlock, and powder horn. Herbs and flowers are hung to dry over the fire and a leather fire bucket stands at the ready, [on the right side of the photo], in case a few stray sparks leave the hearth.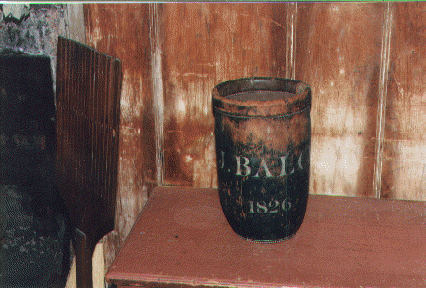 In the above photo you see a leather fire bucket used by a "J. Balch" of a later generation of Balchs. This bucket is typical of those issued to the members of the "Union Fire Society", that was formed in Beverly, in 1804, to handle any fires within the town limits.
This view of the room, taken with the fireplace at my back shows a large spinning wheel. To it's right just out of the photo is a large loom use in the making of cloth.
[Click here to return to the main Tour Page]
or